review
---
Chris Niccolls from The Camera Store provides one of the first up-close and personal looks at the new Nikon Df.
The Camera Store's Chris Niccolls checks out Nikon's latest full-frame, the D600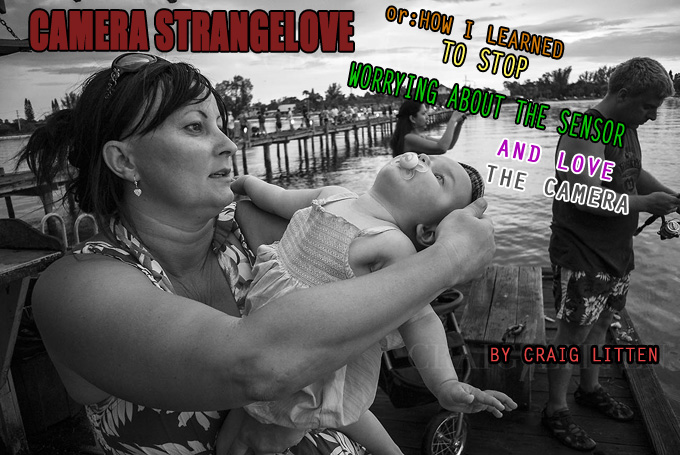 The Nikon V1 continues to be one of the most interesting and underrated cameras on the market. Check out photojournalist and documentary photographer Craig Litten's user report to find out why the V1 remains one of the coolest mirrorless cameras available, even for pro photographers.
Despite being a little-known newcomer to the very competitive camera bag market, Capdase seem to deliver more quality with their mKeeper DSLR camera bag than you would expect. The mKeeper turns out to be a surprisingly high quality camera backpack that competes well with some of the more expensive bags that you're likely to find at the local camera store. Here's a brief look:
From the outside, the bag doesn't look all that special. It sports a rather subdued black and gray nylon exterior with no special graphics or markings, other than a very small and discreeet logo near the bottom of the pack. We like discreet bags like this because they don't advertise to the world (and potential thieves) about their contents. Despite the low-key and almost dull exterior styling, once you open it up it's clear that this bag is solidly built and made of high-quality materials that cater to a more demanding photo crowd than the average Kmart shopper. The padding is excellent and comes with the typical adjustable inserts and 2 zippered mesh compartments of high-quality, see-thru plastic. There's also a water-proof rain cover and the sewn-in label on the inside of the bag proudly proclaims "Capdase Precision Gear is a line of products specifically engineered for sensitive equipment such as cameras and laptops, offering superb functionality with a touch of style. Enjoy!". We tend to agree that the bag is both stylish and functional.
It didn't take long to grow fond of mKeeper bag after a few days of use and it's become my standard camera bag when I need to carry a laptop at the same time as my SLR and a few lenses. The large, zippered laptop compartment makes it easy to carry your computer along, and it easily fit my 13" Macbook with room to spare. I even managed to fit a second laptop in the main compartment while still carrying an SLR camera and a few lenses. This thing is built to handle a lot of wieght and equipment despite being quite compact and unobtrusive. On top of it all there's also a chord and loop system for carrying a tripod along. Whether you've just got a camera and a few lenses, or a couple of laptops and a bunch of camera gear, this bag can handle it.
One thing I'm not sure I like is that the camara compartment can't be opened unless the bag is off of your back. This makes it impossible for anyone to unknowningly zip open your bag when you've got it on your back, but it also means you have to take it off every time you want to access most of the contents. There is a nifty side zipper which you can use to get to some of the contents like your SLR if you pack it right, but I still found myself taking the whole thing off my back whenever I needed to access the main compartment. It's a personal peeve of mine but others might prefer this fucntionality.
All in all, the mKeeper is a great backpack. It fits a ton of equipment, including a laptop (or 2), it's comfortable to carry and is made of high-quality materials that seem like it will last a long time. I have no reservations recommending it, it's a solid bag that gets the job done with minimal flash and fuss.
Sling-style camera bags have become popular lately as they enable you to carry your camera with the ease of a backpack while offering quick and easy access to your equipment without having to take your backpack off. Case Logic's SLRC-205 bag (price US $50 - $80) is one of the more inexpensive sling bags on the market, and after using it for a few days, I've happily incorporated it into my ever-increasing collection of DSLR camera bags (a photographer can never have too many camera bags I always say!).
When I first received the bag I was a bit skeptical -- I didn't think it could hold enough equipment to make it worthwhile to carry on a shoot. My first real-world test though came with a real estate photo assignment, a typical paying shoot for me. Normally I would pack my big, bulky Kata backpack on a shoot like this, but instead I tried the Case Logic bag for a change. It easily swallowed my Nikon D7000 with a big wide-angle zoom (Sigma 15-30mm) in the main compartment. The secondary compartment easily fit my SB-800 Speedlight and a couple of extra cables and batteries. There was plenty of room to spare and the built-in suspension in the main compartment cradled my camera and lens nicely and safely. The system worked great and held just the right amount of equipment for the job!
My second outing was at the beach and much to my surprise, the Case Logic bag happily accomodated my D7000 attached to the biggest lens I own: a Nikon 70-300mm VR zoom. I was off to the beach to shoot some wildlife and the bag turned out to be a great way to carry my equipment on my back while being able quickly access it when needed.
For the most part the bag performed great and what I also liked about it, other than its ability to carry a decent amount of equipment and its great practicality, is that it's reasonably well-made and yet doesn't attract a lot of attention. When I go out to do some street shooting, the last thing I want to do is carry an expensive camera bag that advertises to the world (and potential thieves) that I'm carrying a bunch of expensive camera equipment. The Case Logic bag is pretty low key and doesn't even advertise the fact that it's a camera bag. Sure it may not be made of the same quality materials and construction standards as bags from high-end outfits like Kata or Lowepro, but it's well enough made that it won't fall apart and definitely less expensive than the premium brands. If you are looking for a luxury or name brand bag then this may not be the one for you, but if you want practicality and low cost, this could fit the bill. I like this model and plan to continue using it in my growing repertoire of camera bags.